Bosco Tent
Sun 19th May 9pm-10pm £10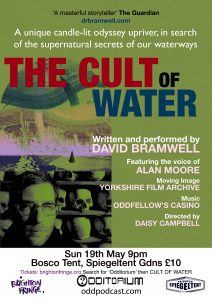 Combining music, animation and film with a captivating monologue, David Bramwell takes audiences on a candle-lit, dream-like journey in search of the occult secrets of our waterways and a drowned village, which has long haunted his memories.

From Doncaster (where he grew up) Bramwell travels up the river Don and back in time, through the ladybird plague and drought of 1976 to the heavily polluted Don of Sheffield's steel industry, up into the Pennines and back into a pre-Christian era when rivers and springs were worshipped as living deities.

Along the journey Bramwell battles with his own thalassophobia (the fear of 'what lurks beneath'); learns about hydromancy from magician Alan Moore, discovers a unique forest of figs growing on the banks of the Don and encounters Jarvis Cocker on his own adventures, sailing down the Don on an inflatable inner tube. 

His journey finally brings him face to face with the goddess of primordial waters, Danu, who gave her name to the Don.

While using the Don as the focal point for a psycho-geographical journey, at heart this is a meditation on the symbolic power of rivers and inland waterways and the profound ways in which they affect our sense of well-being.  

There will be a short Q&A afterwards, focussing on myths and stories around Brighton's lost river,  The Wellsbourne.
David Bramwell is a Sony-Award winning presenter for BBC Radio 3 and BBC Radio 4, having made programmes on subjects ranging from Ivor Cutler to time travel. He has won awards for 'outstanding theatre' and 'best comedy' for his one-man shows and is the author of The Haunted Moustache, The No9 Bus to Utopia and The Odditorium. drbramwell.com Twitter: @drbramwell
---