PRESS RELEASE:  ANNOUNCING SEASON 2 OF THE ODDITORIUM
A very British independent podcast presented by SONY award winner Dr David Bramwell and co-star of Count Arthur Strong's Radio Show David Mountfield; produced by multi-award winning sound designer Lance Dann. Odditorium's first series broke into the iTunes top ten and was downloaded 100,000 times. It returns with a second series that promises to take listeners to the very fringes of culture.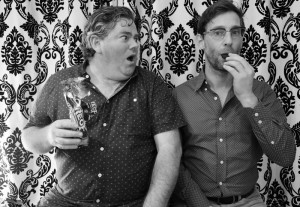 Why does a dolphin's vagina corkscrew? What is the best song to commit suicide to? Why was a hangman's severed hand so valued? Did a sexual adventuress inspire Duchamp to put a urinal in an art gallery? Why was Jonathan King so obsessed with Chumbawamba? Why are we so obsessed with big willies?
Odditorium Podcast Season Two
Combining the silliness of the Adam and Joe show, with Victorian-parlour style talks delivered by enthusiasts, polymaths and eccentrics, the Odditorium is a very British celebration of all that is unusual, challenging or on the fringes of culture. Presented by the erudite Dr Bramwell and his biscuit loving sidekick Mr David Mountfield bathetic presentation frames each week's topic with a combination of insight, pathos and stupidity.
In 2015 the first season of Odditorium broke the iTunes top 10 for Arts and Culture and toured the UK with live events at Wilderness Festival, Port Eliot Literary Festival, Secret Garden Party and Brighton Festival. Subjects ranged from Werewolf Erotica and the KLF to anarchist cooking and the word, 'the'.
On November 26th it launches Season Two with a talk from singer Dunstan Bruce describing how his band Chumbawamba get entangled with Jonathan King and a discussion led by Dr Alaistair Goode about why our culture places such a value on the size of the male phallus. Elsewhere in the season writer John Higgs (author of that KLF book) discusses the relationship between Marcel Duchamp and a sexual adventuress; Britain's Got Talent star Lorraine Bowen presents a musical ode to the Casio Keyboard; and biologist Jules Howard sets the animal kingdom straight with his profound knowledge about animal vaginas.
Sample Episodes from Season 2
Chumbawumba: into the Belly of the Beast with Dunstan Bruce
Dunstan Bruce, singer for Chumbawumba, takes us on the rollercoaster ride that saw a group of anarcho-syndicalists go from singing in squats to headlining Madison Square Garden. Dunstan's story is filled with humour, irony, strident politics, flying ice buckets and an array of insults. In the studio mneawhile, Dr Bramwell is building some shelves for the Odditorium awards while his idiot savant sidekick is recovering from a particularly disturbed night.
Big Willies with Dr. Alaistair Goode

Dr Goode, bearded consumer psychologist, explores man's greatest obsession and greatest insecurity. He asks why the possession of an oversized phallus is considered such an asset, and why certain cultures and individuals are traditionally associated with possessing elephantine sexual organs. His approach is informed by the reading of contemporary psychological and meta-social issues relating to sexual and physical attributes.
About the Odditorium
The Odditorium is hosted by Dr David Bramwell ( SONY silver winner with Radio 3's The Haunted Moustache) and comic actor Dave Mounfield (credits include Radio 4's Count Arthur Strong) who frame the topic with their mixture of humour, insight, silliness and an obsession with biscuits. The show's producers are Andrew Mailing and double SONY winner Lance Dann whose sound design adds an extra layer of wit and spice to the mix.
The Odditorium Season 2 will be available as a podcast from November 26th and broadcast weekly on Resonance 104.4FM in the new year.
@oddpodcastuk [email protected]